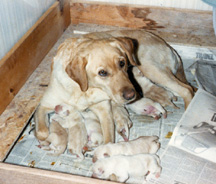 PLEASE REFER TO POLICY BELOW IN REGARDS TO CSECTIONS WE WILL POSSIBLY BE PROVIDING FOR YOU.
Most animals give birth without any complications. However, mothers occasionally need help with delivery. When a natural delivery doesn't go well, we will perform a caesarian section. English Bulldogs need to have a c-section. We do reserve these services for our current clients and patients.
During a c-section, the mother is given an anesthetic. An incision is then made along her abdomen and through the uterus to retrieve unborn puppies or kittens.
EMERGENCY C –SECTION POLICY
To do an emergency c-section at Canton Veterinay Clinic:
****You must have appointment already booked with us for the patient needing the c-section ****
Please do not call the emergency/after hours number if you are not already booked with an appointment at our clinic.
Please do not just walk- in for a c-section without an appointment.
**** We do not do walk-in c-sections.****
Please call ahead 903-567-6581