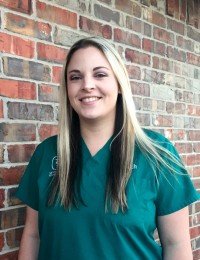 Small Animal Technician
Pets: Copper, Goose and Ackley
Beth arrived to Canton Vet in Spring of 2014. Beth has been in the veterinary field sine 2011. She mainly works with companion animals.
When Beth is not working hard for your pet at the clinic, she can be found taking care of her "kids" Copper and Goose. She loves spending time with her husband Chris whether they are hunting, fishing or riding horses.
#1. What is one of your favorite quotes?
"It's not what you look at that mattes, it's what you see"
#2. What do you miss most about being a kid?
"Sleeping in during summer vacation and not having any bills to pay"