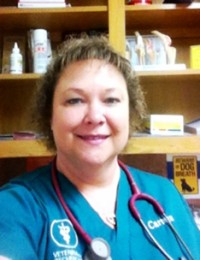 I have been apart of Canton Veterinary Clinic for 15 years! I came in response to a want ad and found that my love for animals and their "people" went beyond my own home and could be combined with my work! I feel priviledged to work in a Christian environment with a wonderful and compassionate group of people. It makes coming to work a joy instead of a task.
When I'm not working with these animals and people, you can find me "scrappin'", the scrapbooking term, not the fighting one! I enjoy working with various local, charitable causes and spending time with my husband and son as well as other family members.
Fun Questions:
1. If someone wrote a book about your life, what would they title it?
"Family, Friends and Scrapbooking"
2. What is one of your favorite quotes?
"God is good, all the time"