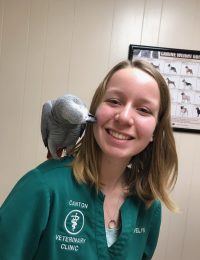 Kennel Tech / Tech assistant
Evelyn has been with Canton Veterinary Clinic since 2016. She assists our technicians as well as keeping a close eye on our patients in our kennel area.
In her spare time she enjoys spending time with her family and her boyfriend, and she is currently going to school!
Fun Questions/ Answers about Evelyn:
What is one of your favorite quotes?
"Courage is being scared to death and saddling up anyway" – John Wayne
2. What songs are included on the soundtrack of your life?
School Days – Chuck Berry , Livin on a Prayer – Bon Jovi , Good Times Bad Times – Led Zeppelin , So Will I – Hillsong UNITED ,
Every Giant Will Fall – Rend Collective , Dumb Blonde – Dolly Parton.