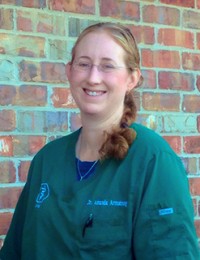 Veterinarian
Dr. Amanda Davis has been a practicing veterinarian at Canton Veterinary Clinic since 2007. She graduated from Texas A&M University College of Veterinary Medicine in 2005. Prior to coming to Canton Veterinary Clinic, she practiced at a mixed animal clinic in Quitman, TX. Dr. Davis works on mixed animals but mostly on small animals with special interest in feline medicine. Dr. Davis is a member of Texas Veterinary Medical Association and American Veterinary Medical Association.

Dr. Davis is a member of Lakeside Baptist Church and is a follower of Jesus Christ. In her spare time she enjoys spending time with her husband Jeremy and their beautiful son Aaron, outdoor sports, gardening and music. She is an owner to two dogs, a cat and a horse which take up the remainder of her time!
Fun Questions:
1. What is your all time favorite movie and why?

"Lonesome Dove. I love that time era with cowboys and indians and how simple that time period was. Plus the actors are some of my favorites."

2. If someone wrote a book about your life what would they title it?

"Ok, What's Next?"

3. If you could learn to do anything, what would it be?