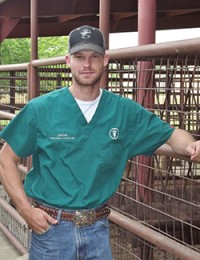 Large Animal Tech
Jarred or "JD" as some of us call him, came to Canton Vet in October of 2013. He's busy in the hustle of Large Animal area most of the day but lends a strong pair of arms when the girls need it inside!
When Jarred isn't wrestling Large Animal at the clinic, you can find him working his own cows, hunting, fishing and spending time with his lovely wife!
1. What is the most beautiful place you've ever seen?
"Colorado"
2. What do you miss most about being a kid?
"Getting to play outside all day long."